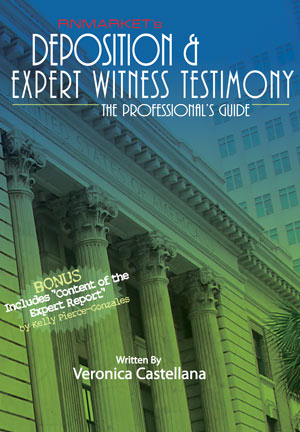 A Quick Guide on How to be Effective as an Expert Witness.
Did you know that most legal cases do not go to trial? That means acting as an Expert Witness is not like most people think. Most people who have the knowledge to testify as experts do not put that knowledge to work because they are afraid they may be made a fool in court. They are afraid because they think of the negative experiences they see on television. Most expert witness work is done during deposition, rather than trial. In deposition, there is usually no more than five people watching you at one time. Therefore, acting as an Expert Witness is usually not like a court scene you would see on television with a full courtroom. With the right education on how to be effective as an expert, anyone who has detailed knowledge in a specific field will be able to hold their own in deposition and court..
The Expert Witness Handbook answers these questions:
Learn How to Decide if You Want to Become an Expert Witness
Learn What It Takes to Become an Effective Expert Witness
Learn How to Act While on the Stand
Learn What to Say in Every Situation
Learn How to Make an Expert Report
Call 866-933-2562 to Order
Only Available with when you complete an LNC STAT certification course.