Legal Nurse Consulting News: Over 35% of Nurses are Ready to Leave their Job. If You are One of Them, Here's How You Can!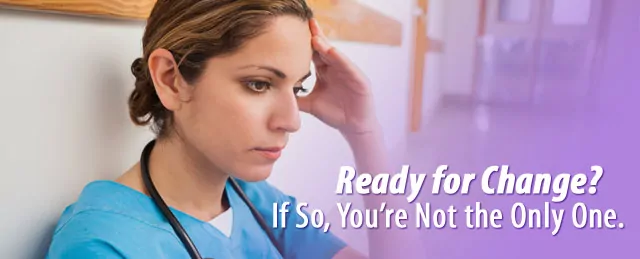 In a recent survey, conducted by AMN Heathcare, over 35% of nurses said that they often feel like resigning from their jobs. However, approximately 90% said that they are happy with their career choice of nursing. This means that most nurses love nursing, and they love helping people, but they just don't love their current working situation. Unfortunately, many of those nurses also believe that the quality of patient care is continuing to decline. This decline can be attributed to failures on the part of the healthcare organizations, but it can also be attributed to nurses who are burned out. Many nurses are so fed up with their demanding work environment, that they are forced to lose the enthusiasm and passion they had when they started. Luckily for nurses, there is a way to restore a positive mentality and regain the feeling of satisfaction from your work.
If you are one of the nurses who feels like you have lost your passion, don't feel like it's your fault or that you are the only one. Many nurses are forced to work in unfavorable and sometimes illegal conditions. Despite enduring those conditions, they are unappreciated for the sacrifice that they make for the welfare of the patient. Any person, whether they are a nurse or not, will feel the same disdain when they are forced into a tough working condition with no appreciation. Other nurses are just ready for a new challenge and are ready to try something new.
Access the most comprehensive and effective training in the Legal Nurse field.
Become Certified as an Advanced Legal Nurse Consultant (ALNC)

Learn More Now
What nurses need is a change in work environment, while still obtaining the same satisfaction they feel in hands-on nursing. This career transformation can be achieved by completing the LNC STAT course and entering the field of Legal Nurse Consulting. With the LNC STAT course, you will learn the secrets to finding real success while reviewing and interpreting medical records in legal cases. As a Legal Nurse, the opportunities and demand are substantial. You can find a full or part-time job in a law firm, insurance company, or managed care organization. The option most new Legal Nurses choose, is to start their own independent practice. This option allows nurses to earn $125-$300 per hour, be their own boss, set their own schedule, and find more freedom to focus on what matters most to them.
There is hope. You do not have to give up nursing to find opportunities that make you happy. You already have the medical expertise necessary to expand your career into Legal Nurse Consulting. You just need the LNC STAT course to show you exactly how to put it to work.
Access the most comprehensive and effective training in the Legal Nurse field.
Become Certified as an Advanced Legal Nurse Consultant (ALNC)

Learn More Now
Resource:
http://www.amnhealthcare.com/uploadedFiles/MainSite/Content/

Healthcare_Industry_Insights/Industry_Research/2013_RNSurvey.pdf
Access the most comprehensive and effective training in the Legal Nurse field.
Become Certified as an Advanced Legal Nurse Consultant (ALNC)

Learn More Now