Legal Nurse News:
Why You Shouldn't Care About the Nursing Shortage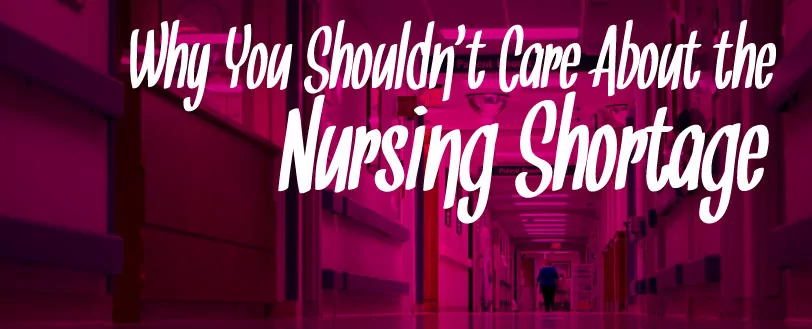 Word about a nursing shortage is starting to spread and slight panic is beginning to set in amongst the healthcare community, thanks to help from the media. The nursing shortage problem seems to come about every few years. While the healthcare industry cannot function without nurses, at what point should it be considered a shortage? In reality, there has been a shortage of nurses for a very long time. The first article discussing a nursing shortage was published in 1965. Is it possible that our country has been in a nursing shortage for half a century? There are a few essential questions that we should be asking about this topic. Why is there a shortage of nurses? Are nurses leaving their jobs or are the healthcare demands growing? What are the healthcare organizations doing to keep their nursing positions filled? The truth is, the nursing shortage isn't anything new. The causes for the nursing shortage aren't new either.
The first step to solving a nursing shortage is to make sure that the currently employed nurses are satisfied with their jobs. Healthcare organizations like to complain about a shortage of nursing staff. Yet, they are not doing much to remedy the problem. The complaints that nurses have with their jobs have not changed in many years: insufficient pay, long hours, an overbearing workload, not enough staff, and lack of support from management. These are all problems that can be remedied if the organizations decide to do so.
Access the most comprehensive and effective training in the Legal Nurse field.
Become Certified as an Advanced Legal Nurse Consultant (ALNC)

Learn More Now
A survey done in 2015 by AMN Healthcare showed that inadequate compensation was the number one reason for their dissatisfaction. That disappointment is understandable when you consider the amount of dedication they must commit to and the risk for injury they must face in their jobs. However, the dissatisfaction from the nurses runs deeper than just inadequate pay. The Medscape Nurse Salary Report in 2015 showed that 40 percent of Advanced Practice Nurses (APNs) still said they would choose a different career if they had a chance to do it all again. The AMN Healthcare survey showed that 50% of nurses worry that their job is affecting their health. These numbers seem to point to the fact that nurses feel that the healthcare facilities are not doing enough to ensure their safety and don't seem to care that they are overworked. Why do healthcare facilities blatantly avoid solving the issue of dissatisfied nurses? As usual, a lot of the problem comes down to the bottom line and the budget. Obviously the issues run deeper than just pay.
The other issue that healthcare organizations face is the lack of new nurses joining the industry. The AMN Healthcare survey showed that 62% of nurses are thinking of retiring. With all those nurses retiring, new nurses are needed to fill their positions. While facilities think that new nurses will be graduating soon, they complain about the shortage and beg for those new nurses. However, this approach is going to backfire soon because there are not enough teachers available to train the new nurses. Those who are qualified to train nurses can make more money by actually working as nurses. In 2014, seventy-eight thousand nursing programs applicants were turned away because there were not enough teachers. Additionally, the profession has developed a reputation of being very demanding and the training is known to be very rigorous. Many people are choosing other careers, some are dropping out of the training programs, and others are not being accepted by the training organizations. It's very possible that the stream of new nurses will continue to decrease.
Access the most comprehensive and effective training in the Legal Nurse field.
Become Certified as an Advanced Legal Nurse Consultant (ALNC)

Learn More Now
In the end, the nursing shortage is the result of failures by the healthcare industry to keep their employees satisfied. Hopefully, the offending organizations will learn a lesson from these hard times, and change their ways. Word about the hardships associated with nursing has propagated, and a career in nursing may not seem as appealing to many newcomers. Since the healthcare organizations have played a pivotal role in creating that negative reputation, it is up to them to improve the reputation of the nursing profession, and solve their shortage problem at the same time.
In response to the title of this article, the reason you should not care about the nursing shortage is because there are many other career options available to you. Until the healthcare organizations decide to change their ways and support their hard workers, you do not have to continue to endure the unfair working conditions. As an experienced nurse, you have many other opportunities where you can utilize your medical expertise. A great career option to consider is Legal Nurse Consulting. As a Legal Nurse, you can utilize your medical expertise in the legal field, interpreting medical records in any type of case. Consider the LNC STAT course to become certified as an Advanced Legal Nurse Consultant (ALNC), and begin earning $125-$300 per hour. Your medical expertise is very valuable in many areas other than hands-on nursing, and you have a choice when it comes to your nursing career.
Resources:
http://www.medscape.com/features/slideshow/public/nurse-salary-report-2015
http://www.amnhealthcare.com/2015RNSurvey/
Access the most comprehensive and effective training in the Legal Nurse field.
Become Certified as an Advanced Legal Nurse Consultant (ALNC)

Learn More Now