Legal Nurse News:
How Nursing Threatens Your Long-Term Health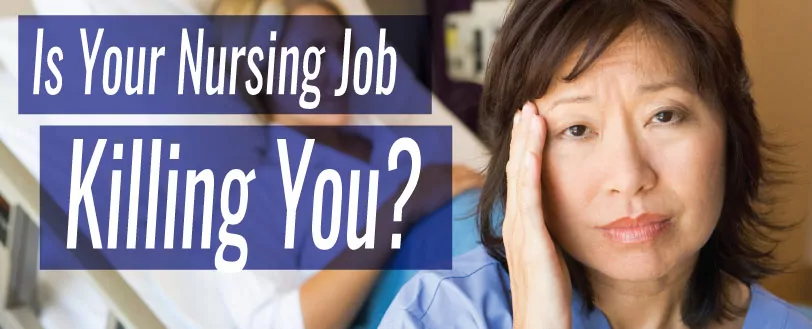 Hospital employees are less healthy, consume more medical services, and accrue higher healthcare costs than the average general worker in the United States, according to a study released by Truven Health Analytics. While most nurses are fully aware that their job can be hazardous at times, they may only be considering the immediate threats for injury. Many may not be aware of the long term effects of their hospital or clinical job. The study showed that hospital employees and their dependents were 12 percent more likely to be diagnosed with asthma, 46 percent more likely to be diagnosed with obesity, and 20 percent more likely to be diagnosed with depression. It seems as though these long term effects can be just as bad, if not worse, than an on-the-job injury. It is essential for nurses to become aware of this threat. But, what can be done about it?
Overall, the study showed that healthcare costs (medical care and prescription drugs) for hospital employees and their dependents were nine percent higher than the general population. Hospital employees had higher utilization of the emergency department and higher hospital admission rates for chronic conditions such as depression, asthma, obesity, diabetes, coronary artery disease, congestive heart failure, hypertension, and back and spine disorders.
Access the most comprehensive and effective training in the Legal Nurse field.
Become Certified as an Advanced Legal Nurse Consultant (ALNC)

Learn More Now
Safety has always been a big issue for nurses. The battle between nurses and administrators over this topic is ongoing. Hospital and facility administrators have taken action to ensure the safety of their nurses. However, they may only be focusing their safety efforts on immediate injuries because they want to avoid staffing and workers' compensation issues. The problem presented by the long term effects of the nursing profession have largely flown under the radar, since this issue typically does not cause any loss of work time or legal issues. Many facilities most likely will not recognize the long-term health issues, because legally there has to be proof that those health issues were the direct result of the nurse's employment.
Hospital and facility administrators would consider the declining long-term health of its healthcare workers to be just as important as the threat for immediate injuries. In a time where so many facilities are complaining about inadequate staff, any and every threat to healthcare workers should be considered and solutions should be put into effect to protect the staff that they currently employ. Sadly, administrators will most likely not consider the long-term effects as hazards until a definite correlation between nursing and its possible long-term effects is made.
Access the most comprehensive and effective training in the Legal Nurse field.
Become Certified as an Advanced Legal Nurse Consultant (ALNC)

Learn More Now
As a nurse, whether you realize it or not, you have the opportunity and decision to control what happens to your long-term health. Nurses must be able to take their health into their own hands. The constant peaks of stress levels that nurses must endure on a daily basis most likely plays the biggest role in the overall declining health of the nurse. In the end, there comes a point in every nurse's career where a decision has to be made: sacrifice their health or their job.
If you find yourself in a nursing job that you feel may be affecting your health, the easiest solution is to move to another job. There are many opportunities within the nursing industry where you can earn great pay and continue to feel the same job satisfaction. A great option for many nurses is Legal Nurse Consulting. You can work for yourself or find a job where you can utilize your medical expertise in the legal field. Any legal case involving medical records needs a medical expert to interpret those records. As a Legal Nurse, you will no longer find yourself in a working atmosphere that is hazardous or harmful to your overall health. Yet, you will still be able to help people and find the same gratification as you did in your hands-on nursing job. Many nurses make the transition slowly. They keep their clinical nursing job part-time, and ease into the field of Legal Nurse Consulting. If you are ready for a change in your career, consider the career options available from LNCSTAT.com. Many nurses have made the transition and are happy they did. Your medical expertise is very valuable. Use it to its full potential, but ensure that your personal health and safety come first.
Source: img.en25.com-Web-TruvenHealthAnalytics-EMP_11759_0812_10steps2cultureOFhealth_WEB.pdf
Access the most comprehensive and effective training in the Legal Nurse field.
Become Certified as an Advanced Legal Nurse Consultant (ALNC)

Learn More Now